Pickleball Courts
Pickleball courts will be closed to the public on the following dates:
August 16th - 19th: Parkland Pickleheads Summer Smash Tournament
**There may be limited access to the courts the day before and after the tournaments for set up and take down.
The City of Spruce Grove has 18 outdoor pickleball courts located on 400 South Avenue, Spruce Grove adjacent to Henry Singer Ball Park. The pickleball courts are free for the community to use.
Availability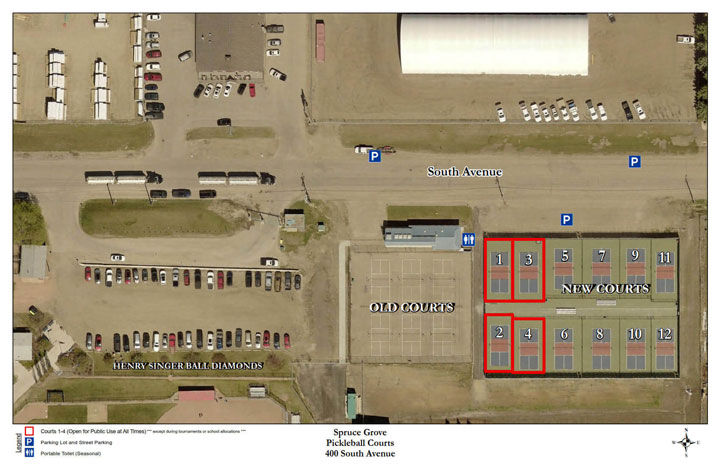 Available on a first come, first served basis, daily between 7 a.m. and 10 p.m. from May to October (weather permitting). 
Due to the popularity of the Spruce Grove Pickleball Courts and the number of Parkland Pickleheads Pickleball Club members the City of Spruce Grove identified courts 1,2,3, 4 on the new twelve court pickleball facility to be open for public use at all times.
Court Rules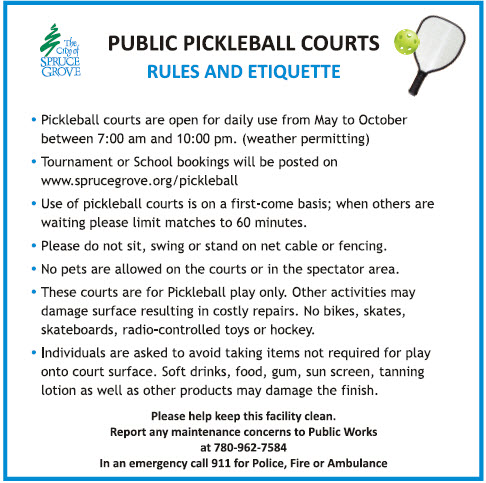 Conditions
To report a concern with the condition of the pickleball courts, please call Public Works at 780-962-7584.
Partners
The Spruce Grove Pickleball Courts are made possible through a partnership between the Government of Alberta, Community Facility Enhancement Program (CFEP), The Parkland Pickleheads Pickleball Club and the City of Spruce Grove.
The Parkland Pickleheads Pickleball Club are a very active community organization that utilize the Spruce Grove Pickleball Courts on a regular basis. If you are interested in learning to play Pickleball or want to check out their schedule visit https://www.parklandpickleheads.com/