Border Paving Athletic Centre
The Border Paving Athletic Centre is currently open. Due to the current situation with COVID-19 and based on guidelines from the Province of Alberta, please be aware of the following:
Wearing a face covering or mask is required in all publicly accessible indoor areas of the facility, as this is now a requirement in all indoor City facilities. At the Border Paving Athletic Centre, this includes the lobby, ARPI's North Rec Hub, washrooms, hallways, stairwell, and spectator areas.
The Border Paving Athletic Centre has implemented the Restriction Exemption Program.
Look for signage that will clearly outline the new rules and expectations of individuals entering the building.
Everyone entering the facility is encouraged not to bring in any unnecessary items.
The Border Paving Athletic Centre offers the following amenities to the community:
Recreation Services office
During this time, our Recreation Services staff are available to provide limited in-person services, including:
Customer service point of contact, which includes customer check in and room access, building safety and general supervision.
Facility rental payments for those customers who need to pay by debit. All other customers are encouraged to make payments over the telephone.
Key sign out and collection for Elks Hall.
Please note that all other interactions between staff and members of the public will be by appointment only.
Questions?
Please call 780-962-7579 or send us an email.
Virtual Tour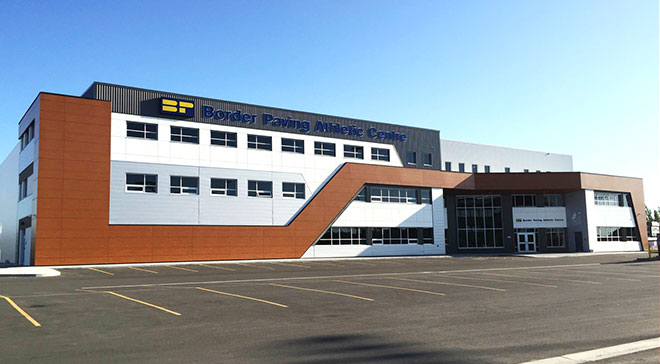 Address
Spruce Grove, Alberta T7X 0T3
Hours of operation
Mon-Fri: 8:30 a.m. - 9:30 p.m.
Sat: 8:30 a.m. - 6 p.m.
Sun: 8:30 a.m. - 4:30 p.m.