Local Transit within Spruce Grove
Local transit service within Spruce Grove is available on Route 568. This route travels in a counter clockwise direction around the city. Due to the situation with COVID-19, face coverings are required when travelling on Spruce Grove Transit's local route.
Schedule
Route 568 runs Monday to Friday from approximately 8:30 a.m. to 3:30 p.m. with service every 30 minutes. Please refer to the Route 568 schedule   for specific details.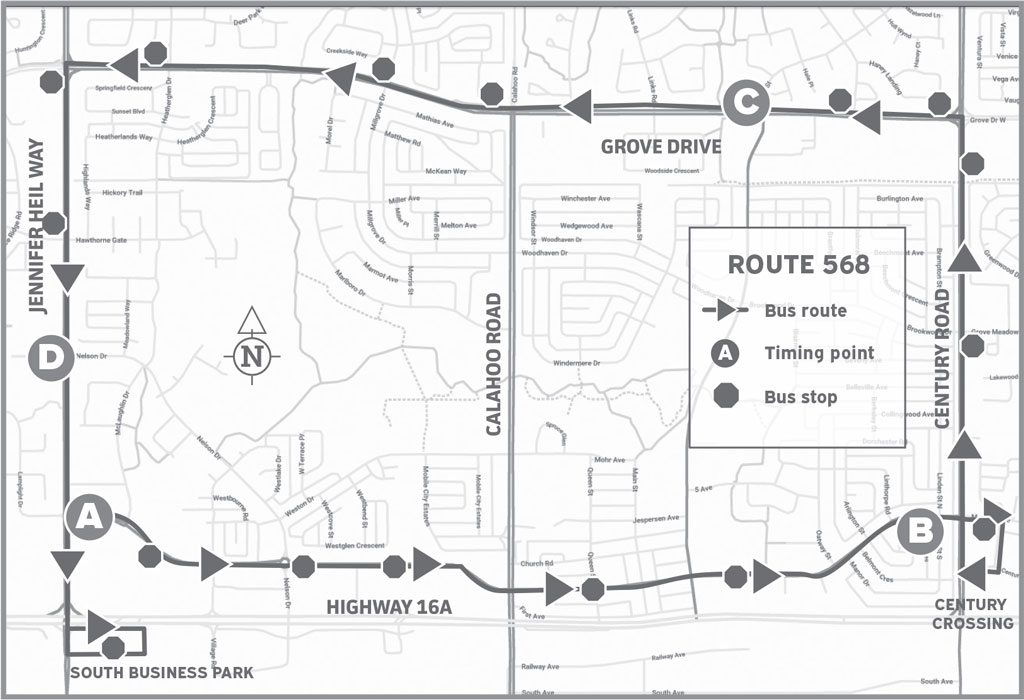 Statutory holidays
Please note that local transit service does not operate on the following statutory holidays:
2020
Wednesday,

 

Jan.

 

1 (New Year's Day)
Monday, Feb. 17 (Family Day)
Friday, April 10 (Good Friday)
Monday, May 18 (Victoria Day)
Wednesday, July 1 (Canada Day)
Monday, Aug. 3 (Civic Holiday)
Monday, Sept. 7 (Labour Day)
Monday, Oct. 12 (Thanksgiving)
Friday, Dec. 25 (Christmas Day)
2021
Thursday,

 

Jan.

 

1, 2021 (New Year's Day)
Fare
| | |
| --- | --- |
| Local service trip (one way within Spruce Grove, no transfer) – ages 6+ | $3 cash fare |
| U-Pass holders   Temporarily suspended | Free |
| Children ages 5 and under (with a paid passenger)  | Free |
| CNIB pass holders | Free |

Please note that commuter transit fare products, including the monthly commuter pass, the monthly youth/student commuter pass, the monthly integrated pass, and Spruce Grove Transit tickets will also be accepted on Route 568.
Questions?
View our frequently asked questions, or contact us:
Phone (780) 962-7634 ext. 193